Log #28—Ixtapa, Zihuatanejo, and Taxco Mexico
Wednesday, May 3rd through Monday, May 8th, 2000
Those Clever Baggage Handlers in Mexico City
Wednesday, May 3rd—I flew from San Diego into Ixtapa by way of Dallas and Mexico city. Not the most direct route. But I wanted to save money by using up some soon-to-expire Delta Skymiles.
When I arrived in Ixtapa, customs wanted to search my duffels because I had declared "spare parts" for the boat on my customs form. I hoisted one duffel onto the table, and noticed, curiously, that the zipper tabs, which I had locked in San Diego, were broken apart. "Strange," I thought. It looked like the lock had been forced off. It had.
I quickly unzipped the bag and immediately discovered that my video camera and portable CD player were gone. I had been hit. When the bag transferred through Mexico City, some very clever and adept baggage handlers, that worked for either Delta or Mexicana airlines, had a unique system going. Because my second duffle hadn't been touched, I knew that the person who stole my electronics had to be sitting in front of an X-ray machine. How convenient of their employer to provide this expensive equipment for them. Think of how much time it would take to rifle each bag separately. The X-ray machine made it a snap:
Step #1: Scan the bag.
Step #2: "Aha! A video camera and a CD player. Bueno!"
Step #3: Force the lock.
Step #4: Pocket the goods.
Step #5: Scan the next bag.
I envisioned a 3-foot pile of video cameras, CD players, headphones, and Game Boys on the floor next to the baggage scanner, leading to conversations like this:
Boss: "Hey Juan, what's that meter high pile of electronic stuff?"
Juan: "It's mine."
Boss: "OK. Can I get you a Pepsi?"
Then, after a period of time, the conversation would go like this:
Juan: "Hey Boss. I need overtime pay."
Boss: "Why?"
Juan: "I'm not scanning bags fast enough. Too many distractions. I need more money."
Boss: "Is time-and-a-half OK, or do you need double time?"
Juan: "Double time."
Boss: "OK. Can I get you a Pepsi?"
At the Mexicana counter in Ixtapa I filled out paperwork for the missing goods, knowing full well that I would never see them again. Losing the camera and CD player was just a valuable lesson. Losing the videotape of Mazatlan, Copper Canyon, and Puerto Vallarta was worse. I obviously should have known better. But I had brought so much stuff down from San Diego that I wanted to avoid carrying six or more bags through the airport. So much for saving time and money.
Mexico City's reputation as a tough town seems well-founded. Based on my experience, where my luggage was automatically routed through the baggage system in Mexico City, I would conclude that corruption and theft seem rampant there. Yes, this is based on a small, statistically invalid sample, but consider this: Last week I met a man in the San Diego Delta ticket office who had just come from Mexico City where a pickpocket lifted his wallet, credit cards, driver's license, etc. Based on a sample of two, 100% experienced a theft.
Exploring Ixtapa and Zihuatanejo—Thursday, May 4th through Saturday, May 6th
| | |
| --- | --- |
| | |
| Swimming With Crocodiles Highly Discouraged | |
Had you visited Ixtapa in the 60s you would have discovered a coconut plantation. Ten years later, in 1970, Fonatur, the organization responsible for developing tourism within the Mexican government, selected Ixtapa as the Pacific Coast version of Cancún (which they also developed). According to the Lonely Planet guide on Mexico, Fonatur had three criteria in selecting a Pacific Coast site: 1) an average temperature of 27ºC and 81ºF, 2) tropical vegetation, and 3) great beaches.
We didn't find the beaches, but we did find a slip for Andanté in Marina Ixtapa, a very quiet flat-water, no-surge marina with approximately 250 slips. For the first time that I remembered since leaving for Alaska over a year ago, we felt no movement from the water. It was like living on a motor home. Marina Ixtapa did have one disadvantage, however: No Swimming, because the marina's waters are home to crocodiles.
Ixtapa, however, has no central town or shops—only hotels fronting the beach. A four peso and five mile bus ride to the south lies the more populated town of Zihuatanejo. As the famous quote goes, "there's more there, there."
Catering to American Tourists
with Cuban Cigars
Zihuatanejo, like most Mexican towns on the Pacific, has evolved from a simple fishing village to tourist trap extraordinaire. Many locals earn their living either with souvenir stores or restaurants, and the souvenir stores seem to have a wide variety of homogenous offerings: T-shirts, beach towels, Mexican souvenirs.
Some stores, however, offer more selective merchandise, as evidenced by the photo on the right. Although the caption suggests these amigos were partaking in one of Cuba's major exports (Cuban cigars are banned from export to the US), the boys were actually doing market research on indigenous Mexican Montebellos. The reviewer's consensus conclusions: "Mild flavor, easy draw, an excellent cigar for $1.80. US."
Making Connections to Taxco
We decided to take a trip to Taxco, where most, if not all, of the silver in Mexico is mined. We made the trip by bus on Sunday, May 7th, and getting there required a few connections.
Initially, one local had informed us that "busses leave for Taxco hourly." After we arrived at the bus station in Zihuatanejo around 8:45 Sunday morning, expecting to catch the 9:00 bus to Taxco, the ticket sales lady informed us that the bus for Chilpancingo—ostensibly the city offering the fastest transfer to Taxco—had already left. The next bus to Chilpancingo left at 11:00. As an alternative, we opted to take the four hour bus to Acapulco, where, according to the same woman, more connections were available to Taxco.
We arrived at the Acapulco bus station around 14:00, and discovered that the next direct bus to Taxco left at 20:40 almost seven hours later. But we did find a bus at 15:00 to Iguala, just 30 kilometers away from Taxco.
In Iguala we were the only gringos in the entire city, attracting attention and turning heads wherever we went. From Iguala we hired a taxi to transit the final leg to Taxco.
These connections were cumbersome, but not as interesting as the maniacal bus drivers from Guerrero state. All bus drivers insist on driving at least 70 MPH—including around curves on cliff-hugging walls. They pass everything in sight, and make keep-the-bus-rolling passenger pickups and drop-offs. Our bus driver from Zihuatanejo to Acapulco, who prompted me to put my book down half a dozen times to watch the unfolding scene, was a choirboy and a saint in comparison with our driver from Acapulco to Iguala.
| | |
| --- | --- |
| | |
| Unsafe at Any Speed? | |
Our bus driver to Iguala posted numerous religious icons around the cab area, including several crucifixes, the Virgin Mother, and a large icon of Jesus looking heavenward. He strategically positioned Jesus over the entrance—a constant reminder that salvation was only one step away.
Before he entered the bus, our driver had the disconcerting habit of crossing himself. Then, he crawled into the driver's seat, punched the clutch in, jammed the shift mechanism into fifth gear, pushed the pedal through floor, and passed everything in sight—and this was only in the parking lot.
In the photo at left we see our bus, traveling at 80 miles and hour, passing the slow bus traveling at only 65 MPH. Note the curious passenger on the other bus, staring incredulously as we accelerate into the curve. Also note the two approaching cars. Purses, travel bags, Dorito chips, and Pepsi cans floated in space. Sometimes it was easier to brace yourself by standing on the window. I understood why Jesus looked heavenward and implored our Heavenly Father, from his envied position near the exit.
After we arrived in Iguala, we took a VW bug taxi the final 20 miles to Taxco.
In Taxco we checked into the centrally located Hotel Posada San Javier. Decorated with beautiful gardens around a central swimming pool, the hotel, like all of Taxco, is built like a tree house, with its rooms perched on multiple levels throughout the complex.
Taxco, Mexico's Silver Mining Town—Monday, May 8th
The Aztecs called the silver-mining town of Taxco "Tlachco," or "place where the ball is played." In 1531 the Spaniards established the first mine in North America here, originally looking for tin. Three years later, in 1534 they found silver lodes which made Taxco famous. Today, with the mines still active, and over 300 silver shops in this city of 95,000 people, silver is plentiful and relatively inexpensive. You can find styles of jewelry ranging from traditional to contemporary. We often purchased finished pieces and only paid the price based on the weight of the silver. For example, two fine mesh silver necklace chains cost about $2.50 US.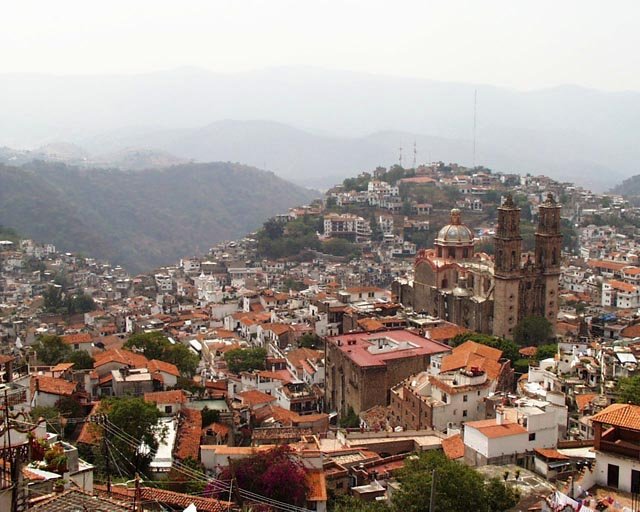 Taxco Nestled in the Mountains
What water is to Venice, stairs are to Taxco. The city clings tightly to the surrounding hills laced with steep winding lanes and alleys. Although the city bustles with thousands of Volkswagen Beetles, most of them taxis, and VW vans, most of them buses, no cars can park on its narrow cobblestone streets. Exploring Taxco taxes your leg muscles and, at 5400 feet altitude, your lungs as well.
The Mexican government protects Taxco as a historical monument. Old buildings are constantly restored, and new buildings must conform to the old colonial architecture.
We spent the day exploring the city, hiking the streets, and patronizing the silver shops. Emilia Castillo, one of the more prominent silversmiths, offers exquisite stoneware settings in forest green, mint green, dark blue, beige, and black. Silver accent motifs interlace every piece. A seven-piece place setting is priced at $270.00 US.
If you like amber, we met Martha Zuriga who owns Amber Mexicano. Martha operates her own amber mines in Mexico, employing about 600 miners. Although she primarily sells wholesale, she also sells direct. Martha also knows the best silver artisans in Taxco, in case you'd like to have some custom work done. Amber Mexicano is located in the Plaza San Javier located in front of the old convent. Be advised that Martha is contemplating moving to another location.
Access and Resources
Emilla Castillo Silversmiths, Juan Ruiz De Alarcon No. 7. Tel. 52 (Mexico country code) 7-622-34-71.
Up Next ...